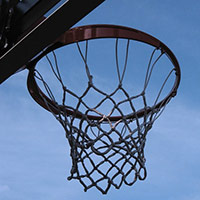 My dad ran up and down the sidelines cheering me on and yelling at the top of his lungs. Â He didn't know much of anything about soccer, but that didn't stop him from being my fan. Â That taught me a valuable lesson, which I am using today.
I have never been a basketball fan. Â High school, college, NBA… doesn't matter. Â I don't know much about the game except the basic rules and the names of the popular teams around the nation, and of course some of the names of the more famous NBA players that most of us probably know. Â Although I did learn recently that Oklahoma City has an NBA team. Â Oklahoma City?? Who knew?
But I know more now that I ever have. I have learned that Lebron James almost had a quadruple-double in the Miami Heat – Boston Celtics series. I have also learned that Denver's Ty Lawson is the best 3-point shooter in the NBA, according to my 12 year old.  Yet my 15 year old says that 10-time All-Star Ray Allen is actually the best 3-point shooter and will be even more deadly now that he has been traded from the Celtics to the Heat.  And don't even get me started on the Linsanity that is going on up in the NY Knicks stands.
I have come to know and understand the intricacies of NBA basketball not because I really care that much.  I do it because my kids do. I am not sure when it happened, but we adjusted our schedule around the house to make sure that we watched the games on TV during the recent playoffs.  And now I understand why my dad screamed from the stands at my soccer games while scratching his head at times at what was happening on the field.
I think it's important that parents invest themselves in the things that their children invest themselves in. If my kids were into comic books, I would be too. Skateboarding? Yep, I would give it my best shot. (Thank goodness they are not!) You see, I have discovered many benefits to doing this. Â I get to have conversations with my kids about things that excite them, and they know I am interested. Â So when they get excited about something, I am on the short list of those who they know will be excited too. I know what's going on in the lives of my children, at least on some level, instead of being totally clueless about what's going on. Â Even today I listened to some music that my kids are into, and while I can't say I was impressed, at least I know what is being pumped through those earbuds.
I may not understand why my kids like the things that they do, and I may not like them myself. But I love my children, and I want them to know that their dad at least knows enough about it to 'talk shop'. Â So if you'll excuse me I have to go visit ESPN.com right now and brush up on the latest NBA free agent trades, while at the same time thank my lucky stars my kids aren't into BMX bikes. Â That would just get ugly real quick!