One of the best perks of being involved with Dad-O-Matic is getting to meet wonderful people like the members of the family band Laughing Pizza. We've covered them before on here when I shared their wonderful song called DADDY. Well, this time around I got to sit down with them before their show here in Georgia and interview Lisa, Billy and their daughter Emily.Here's a photo of Laughing Pizza with my son Matthew (9) and Rachel (6) who were so excited to meet them. OK so was I! They have a new movie out now on DVD that shows how they started the family band. It also shows how good they are on stage and the high energy of their live performances of completely family friendly music.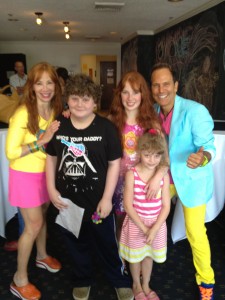 You can checkout the video of the interview below but please forgive the poor sound quality. My nine year-old recorded it with my iPhone. Next time we will use pro gear. Here's the transcript of the Q & A session we had before the live show here in Georgia in June 2012.

Transcript of particular Questions and Answers
DOM:
How did you come up with the name Laughing Pizza?
Billy Pizza:
When I was in college in my band we used to have a saying when we wanted to get serious and rehearse, No Laughing, No Pizza!
Lisa Pizza:
Then when we started our band for this one (Emily), we wanted to create music for her, we thought the only thing we wanted to do was have laughs and have pizza so those two words came together because that's what we do.
DOM:
When did Laughing Pizza start?
Billy Pizza:
We really started in 2002. Before that I had a corporate job and I was on a plane on 9/11 and it took me a week to get home. That's when we decided we didn't want to be apart again as a family.
Lisa Pizza:
To me, we didn't become a band until Emily joined us (2005)
DOM:
Emily, when did you join the band officially?
Emily Pizza:
I used to join the show now and then at 9 or 10 and sing. But then eventually I started writing music and performed more.
Billy Pizza:
By the time she was in 6th grade she got a tutor and stopped going to regular school. She's been on online school ever since.
DOM:
Emily, how long would you like to perform with Laughing Pizza? Do you have plans to ever become a solo artist?
Emily Pizza:
I'm a songwriter and I write songs for them and other people. I would never want to be a solo artist. I can do this the rest of my life
DOM:
What I like about Laughing Pizza is the fact that it's safe for kids to hear
Lisa Pizza:
That's one of the things me and a bunch of other moms were talking about last week. Kids can pick up on things so quickly with today's music, even things they don't even understand. There's a big between between what's appropriate for kids and what's not.
Billy Pizza:
Like your kids are Wiggles fans… once they're a certain age they start growing out of that and then what's the next step? There's a big gap. We hope to at least give families an option to give them something else to listen to and also inspire them. We sing about common things like school, homework, etc.
DOM:
Have you noticed a wide age range in your audience?
Lisa Pizza:
It touches us to see all ages. It's heartening to see all ages at our show and to see parents rocking out with their kids. We know the kids will enjoy the show but we love it when the parent enjoy it too.
DOM:
Have you met any other artists or bands?
Billy Pizza:
Yes. We did 18 months doing a Target book festival all over the country and what was fun with it we got to meet authors and bands.
DOM:
How long is this tour?
Lisa Pizza:
We're doing the back to school bash locally at the end of July at Stone Mountain and then we're gone for two more months.
Billy Pizza:
Between now and then we're doing a new CD, shooting our TV pilot hopefully
DOM:
We look forward to the show. Thank you for the time to talk