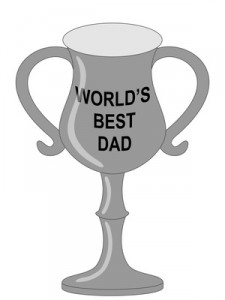 It is one week from Father's Day!  Do you know where your gift is?  It's time for procrastinating sons and daughters to unite and get off our butts and focus on something that will make dear old Dad smile.  If you are also a Dad (or Mom) yourself, it will be even easier to put a smile on your Dad's face, leveraging your kids (his grandchildren).  There is still time to send your Dad a very special gift that is heartfelt, personal, and will be appreciated for a long time to come.
A PICTURE IS WORTH MORE THAN A THOUSAND… (DOLLAR GIFT)!
Since Dads are used to supporting their kids, when it comes to Father's Day I believe that most Dads are much more interested in the thought behind their kid's Father's Day presents rather than how much their kids may have spent on them. Thanks to the digital age we live in, chances are you have gigabytes of photos of you, your dad, and your children.  There are literally dozens of websites where you can upload your digital images and turn them into a wide range of personalized gift items, from t-shirts, mugs and key chains, to gorgeous leather bound books.  With very little effort you can personalize them with captions, poetry, family quips, etc. to create something that Dad is certain to cherish.  My personal favorite is Shutterfly.com, but you can also check out Zazzle, Snapfish and just about any other photo sharing site for similar products and services.  In less than an hour, you can put together an awesome gift for Dad at just about any budget level.  More importantly, if you take a few moments to give it some thought, adding some clever captions and other personal touches will make your gift a special one that Dad will return to again and again.  Most of these sites have sophisticated "print on demand" systems so you can create your gift any time, day or night, and it is often shipped within 24 – 48 hours, which means if you act now, you still have time to make something special for Dad that he will receive on time!
GETTING FRAMED
One other great gift, at a slightly higher price point, is a Digital Picture Frame
.  Buy it in advance, and load it up with an SD card full of pictures of you and your family.  Then send it to Dad so all he has to do is plug it in and turn it on.  For the more adventurous, you can get a "connected" digital frame from companies such as CEIVA.  I sent one of these to my parents as a gift and it now has a prime and prized location in their bedroom.  The CEIVAshare Digital Photo Frame connects to a phone jack and has a unique address.  Knowing the address of my Dad's frame, I can go to the Ceiva website and upload pictures directly to the frame in my parents apartment.  They never know when there will be something new on the frame, which is cool.  Sure, I can email them new pictures of the kids, but it seems to be even more special when they walk into the bedroom and there it is, already in rotation on their digital frame.  I think the Ceiva frame is a very slick and clever product.
So, if you haven't yet decided on what to get your Dad, get to your computer, open your pictures folder and get to work!  What do you think?  If you have other fast and fantastic Father's Day gift suggestions, please share them in the comments.
Jeff Sass is the proud dad of ZEO (Zach, 20, Ethan, 19 and Olivia, 17).  He is also a seasoned entertainment and technology exec and active social media enthusiast.  You can see more of Jeff's writing at Sassholes! and Social Networking Rehab.
Photo Credit: © Gina Rothfels – Fotolia.com