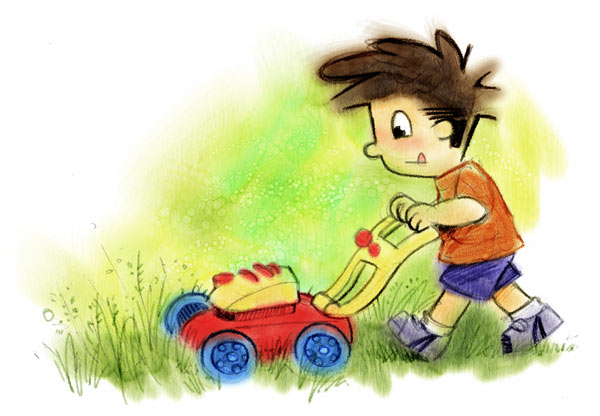 Sometimes I long for the days B.L.
Before Lucy.
Lucy is my seven-month-old daughter and first child. As an entrepreneur, I mistakenly thought my life resembled a roller coaster before this adventure into fatherhood. I realize now that I was only riding the wimpy kiddie coaster — the one without the big drops, corkscrews, and urges to vomit.
Looking back, I enjoyed a lot more freedom then. I had way more time to myself, and I could come and go as I pleased. My wife Kim and I could watch more than one hour of a movie before slipping into comas. I didn't have to deal with dirty diapers, some of which I've dubbed "Evil Mash." (You know the ones I'm talking about.) Traveling was a lot easier. Taking naps or going to the bookstore when I felt like it was, too. And I didn't have to concern myself with trying to figure out (and prevent) all 8,745 ways an infant can hurt herself.
However.
Like my dad says, "The grass may look greener on the other side, but it still has to be cut."
Kim and I were married for eight years before we got pregnant, and we were actively shooting for a kid during the latter few. I remember wondering if we were destined to be childless, and dreamed for the day when someone would call me Dad. (Weird strangers and well-meaning friends didn't count.)
If a time machine whisked me back to the days B.L., I'd no doubt yearn for fatherhood, and everything that comes with it. The easy smiles that appear when I walk into the room. The fuzzy, sweet-smelling head. The cute little toes. Afternoons spent on the swings. Bath time. And the feeling that, at least in the eyes of one little person, I am Superman.
No matter what stage of life you're in, perspective is the key. Childhood was cool, what with the freedom from mortgage payments and the playing all day. But the whole going to school thing and not being able to drive was a real drag, wasn't it? Everything has its pros and cons, and the choice on which to focus is yours and yours alone. It's pretty simple, really. A seven-month-old might even understand it: Focusing on the pros makes you happy, while concentrating on the cons makes you sad. Easy to understand, easy to forget.
So, after careful consideration, I've come to an important conclusion: B.L. may have been easier, but A.L. is better.
Jason Kotecki is a dad who also moonlights as an artist, author, and professional speaker. Jason and his wife Kim (a former kindergarten teacher) make it their mission in life to fight Adultitis and help people use strategies from childhood to create lives with less stress and more fun. Stop by www.KimandJason.com and follow them on Twitter @kimandjason