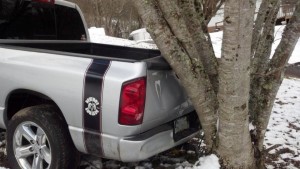 Saturday night. Â I am in Houston, Texas. Â At dinner with friends following the conclusion of the Dad2Summit.
My phone rings. Â It is a number I don't recognize, but the smarts in my smartphone tell me the call is from North Carolina. Â My oldest son, Zach, lives in North Carolina. Â It is midnight there.
I immediately answer. Â Knowing and dreading that something is wrong.
A female voice.
"Is this Jeff?"
"Yes…"
And then she starts crying.
"It's Felicia…"
My son's girlfriend. Â She cries more intensely. Â My mind fills in the blanks in the worst possible way. Â Through sobs she continues…
"Right now… Zach… is pinned between his truck and a tree. Â I can't get him out."
I leap from the table as if, with that intense, emotional motion I could transport myself to my son.  As if I could will myself to physically appear at the gruesome scene that was already filling my head.  Just that morning I heard Brene Brown give a keynote about vulnerability, and she spoke of the stories we tell ourselves. Already my mind was spinning a horrible tale of a parent's worst nightmare.  Gleaning disjointed snippets of information from my son's sobbing girlfriend, I could not help myself from scripting scene after terrible scene. I imagine my son slumped in the cab of his truck, the front end wrapped around a tree, awaiting the arrival of the Jaws of Life.
But the warped story in my head was not reality. There had been no impact accident, but rather one of those bizarre, unexpected accidents. I fought back my own tears while collecting the information through her tears, and learned that they had skidded off to the shoulder of an icy road, and the truck wouldn't get any traction to get back on the road. Zach went behind the truck to inspect the situation when the truck suddenly slipped back on the ice pinning him against a tree.
The images in my mind shifted to a tree, my son and the crushing weight of the Dodge RAM 1500. New imagined horror stories of awful outcomes filled the fast flipping pages of my mind.
"Is he conscious? Is there any blood? Can he feel his legs?"
Suddenly I find myself going all Perry Mason on Felicia, grilling her with a barrage of questions…
"Can I talk to him?"
Zach's voice sounded strong, almost normal, which immediately filled me with both chills and relief. He said he could feel all his fingers and toes, but that he was in a lot of pain. And he was scared.
I was scared too.
I did my best to hold the ugly head of my fear below the surface and be strong and encouraging – fatherly – to Zach, to assure him that help was on the way, that Felicia was there, that everything would be fine.  But below the surface the horrible stories were clawing their way back into my mind.  Was there internal bleeding?  Would he be paralyzed?  Was the truck and the tree the only thing holding my son together, like the wrenching scene in the movie "Signs" – a reference Zach himself made, saying he could not stop thinking about it as he waited in the cold for the rescue team to arrive.  I wanted to stay on the line with him until then, but they didn't want to drain the phone's battery.  I told Zach how much I loved him, again fighting back the awful thoughts trying to force themselves into my mind…
As I waited, pacing back and forth in my hotel room, I cried. I prayed. I spoke to myself aloud.  I envisioned every imaginable scenario, starting with the worst…
Finally the phone rang.  The EMT's were there, trying to figure out the best way to safely extract Zach… slowly, carefully.  Thirty minutes later he was at the hospital and I was able to speak with him again before they took him in for CAT scans.
Miraculously, though in a great deal of pain and severely bruised, Zach did not suffer any breaks or fractures, and there was no internal bleeding. Â About five exhausting hours after my phone rang at dinner, my son was released from the hospital.
I feel incredibly lucky and blessed, as this could have been so much worse.  I am so grateful and relieved that the stories in my head were just stories… just my internal fictions, reminding me how quickly, easily, and unexpectedly our lives can be turned inside out.
I am reminded that fatherhood – parenthood – is as frightening as it is wonderful, 24/7/365 and forever. Â I am reminded that whether your child is twenty four hours old, twenty four months old, or twenty four years old, our burning desire is to protect them, and there is no greater fear than knowing that sometimes you can't.
——-
A tip for parents of young adults: Â If your child is over 18 the hospital will not release any information to you unless your adult child authorizes it. Â Have a discussion with your kids so that they are aware of this. Â Ask them that if they are ever taken to the hospital for any reason, to please let the hospital know as soon as they can that it is ok to share information with their parents. Â When I was desperate for information about the status of my son, I had to wait for them to get Zach's approval.
——-
Jeff Sass is the proud dad of ZEO (Zach, 24, Ethan, 22 and Olivia, 21).  He is also a seasoned entertainment and technology exec and active social media enthusiast.  You can see more of Jeff's writing at Sassholes! and Social Networking Rehab and you can listen to Jeff on the Cast of Dads,  Wunderkind!  and Gape Into The Void podcasts.  Jeff just launched a new story podcast, DadSlam.