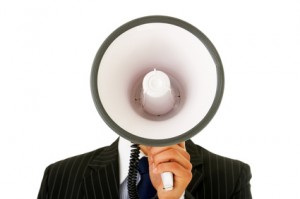 A few weeks ago I wrote about "5 Things You Should Never Say To Your Kids" and there were some great comments and discussion that followed the post. Â Thank YOU for chiming in. Â In the spirit of countering the negative with the positive, I thought I would follow up with a few things that we should say to our kids, and say them as often as possible. Â A parent's words are powerful weapons when aimed at our kids, so let's use those weapons for good. Â With that in mind (and to remind myself), here are:
5 Things You SHOULD Say To Your Kids
1. "Yes." – When your child says "come here a minute," say YES. Â When your kid says "can you help me?" say YES. Â When your youngster says "can I try that?" say YES. Â When your first inclination is to say "in a minute" or "not now" or "maybe later" or "I am busy" or "I can't right now" fight the urge and say YES instead. Â Stop what you are doing and give your undivided attention to your child. There will come a time when they may stop asking and you will have missed the chance to say YES more often. (Trust me on this one!)
2. "That was really good." – We all need confidence and self-esteem to be happy and successful and as parents we are in the position to heap plenty of praise on our kids. Â We have the power to find something positive in virtually everything our kids may do. Â Find the good, and focus your praise on it, as often as you can. Â Praise is a great way to raise your child's confidence and self-image, and focusing on the positive feels so much better.
3. "How are you?" – A simple question that can go a long way if you mean it when you ask it, and listen… really listen, when it is answered. Â HINT: This is a good tip for dealing with the adults in your life as well.
4. Â "I am proud of you." – Our kids naturally seek our approval, and letting them know that we are proud of them makes you feel as good as it makes them feel. Â Showing your pride for your kids is also a great way to brag about them to others without being obnoxious. Â It is great to tell someone else how proud of your child you are, especially when you do it in front of your child.
5. "I love you." – I know I have written about this before, but "Love" is the one four letter word you can never get in trouble for saying it to your kids. Â Sure, your kids know that you love them, more than anything… more than words can easily express. Â Even so, nothing beats looking them in the eye and telling them, straight up. Â "I love you" are the three words a child cherishes from their parents. Â Don't make them wait for it. Â Say it a lot. Â They will know you mean it…
Do you agree with these five things? Â What did I leave out? Â Please add more things we should say to our kids in the comments.
?Jeff Sass is the proud dad of ZEO (Zach, 21, Ethan, 19 and Olivia, 18).  He is also a seasoned entertainment and technology exec and active social media enthusiast.  You can see more of Jeff's writing at Sassholes!and Social Networking Rehab and you can listen to Jeff on the Cast of Dads podcast.
?Photo Credit: © Yuri Arcurs – Fotolia.com