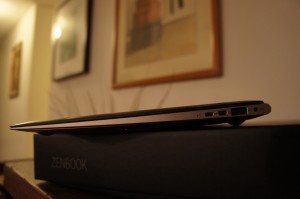 In the holiday spirit of giving, this is a quick update to my post about Ultrabooks.  I mentioned that my Cast of Dads cohort, Michael Sheehan (@HighTechDad) and I would be presenting a chance for one of you to get an Ultrabook, courtesy of Intel, the driving force behind the Ultrabook platform.   Here are the details:
You can read the the Official Rules, which you should, but here is a summary of the giveaway –
Begins December 21, 2011 at 12:00:01 a.m. U.S. Pacific Time ("PST")
Ends December 23, 2011 at 11:59:59 p.m U.S. Pacific Time ("PST")
U.S. Residents Only
18 years and older
Must have a non-private Twitter account
You must send a Tweet with the hashtag (#) – "#UltrabookDads"
So it's simple. Â Between now and Friday at Midnight PST, just send a Tweet with the hashtag #UltrabookDads and you'll be part of a random drawing for the Ultrabook.
Now, while all you need to have in your tweet is the #UltrabookDads hashtag, we might as well make it interesting for the folks who will see your tweet, so feel free to add some thoughts about what you find exciting or appealing about the concept of an Ultrabook – a thin, light, highly portable and equally powerful laptop with instant on, long battery life, and some serious sex appeal in the looks department. Â How would an Ultrabook impact your computing lifestyle?
To share some of our new-found insights and information about Ultrabooks Michael and I will host a couple of informal online get-togethers, which we promise to be ultra fun and put a geek dad spin on some great new technology.  (For a taste of our style  just check out the Cast of Dads podcast.)
We will be doing both a Hangout on Google+ and a live Twitter Chat. Â  These are just for fun and information. Â You don't have to participate in either to be eligible for the giveaway, but if you want to get our first impressions of the Asus Zenbook Ultrabook we have been playing with, the hangout and chat will be a great opportunity.
Here is the schedule for the Hangout and Twitter Chat:
Google+ Hangout: Thursday, December 22 at 10pm EST / 7pm PST
Twitter Chat: Friday December 23 at 10pm EST / 7pm PST
We'll be talking Ultrabooks, etc. for about an hour each night and we hope you can stop by! Â In any event, feel free to follow me (@sass) or Michael (@HighTechDad) for updates and don't forget to send a tweet with #UltrabookDads before Midnight Friday if you want a chance to get your own Ultrabook!
Happy Holidays!
UPDATE: Â The winner of the Ultrabook Giveaway was @BadMofo33. Â Congrats!
Jeff Sass is the proud dad of ZEO (Zach, 23, Ethan, 21 and Olivia, 20).  He is also a seasoned entertainment and technology exec and active social media enthusiast.  You can see more of Jeff's writing at Sassholes!and Social Networking Rehab and you can listen to Jeff on the Cast of Dads  and Wunderkind! podcasts.
Disclosure: Â In accordance with the FTC Guidelines and WOMMA Code of Ethics, I am disclosing that I have a material connection because I received a gift or sample of a product for consideration and/or am being otherwise compensated by Intel in preparing to create this content. I was/am not expected to return this item or gift after my review period. My opinions about Intel, Asus, and Ultrabooks are entirely my own and not those of Intel, Asus or any other party.