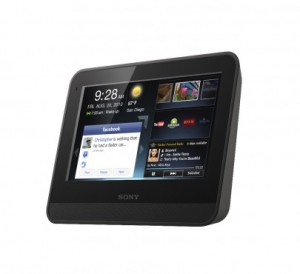 An Alarming Situation
Like most dads (and humans for that matter) I generally go to sleep at night and rely on mechanical assistance to wake myself up at the desired hour each and every morning. With that in mind I have been forever in search of the perfect alarm clock.  I have tried them all – atomic clocks that automatically set themselves, clocks that project the time on the ceiling, clocks with big flashing digital displays, clocks that sound like waves, and streams and birds, and more recently, clocks you can use as a dock for an iPod.  I like going to bed listening to different music so the concept of a iPod dock makes sense, but they are fairly large for the nightstand and it is a bit of a pain moving the iPod around.
A Dash To The Rescue
I am pleased to say that thanks to the good folks over at Sony my quest for the perfect alarm clock has ended!  As part of the Sony DigiDad Project, I was given a Sony Dash (more information available here).  I love my Dash and I am certain any digitally inclined dad would love to have one as a Father's Day gift.  The Dash is a nice looking web connected wedge shaped tablet that sits on a counter or nightstand in either a flat or upright position.  It features a bright and colorful 7 inch touch screen, surrounded by a classy and rugged rubberized frame.  The Dash connects easily to your home wireless network for internet access, and is compatible with the Chumby widget platform, so there are more than 1000 free Internet widgets (apps) you can install on channels on your Dash – from stock quotes, to weather, to music and video, to Facebook and Twitter, it is easy to customize your Dash with the real-time streaming media of your choice.
Best Alarm Clock Evah!
Sony calls the Dash a "personal Internet viewer." I call the Dash the best bedside alarm clock I have ever owned, and here's why:
Keeping time – just like your mobile phone, the Dash can set itself from the network so you always have accurate time (no atomic clock necessary).  As an alarm clock, the Dash is full functioned and very customizable. It is easy to set and manage multiple alarms, individual or recurring.
Multiple Clock Choices – in addition to the "built in" clock, there are clock apps you can add in every imaginable style, from analog neon bar clocks, to classic digital alarm styles, to my personal favorite the flip clock.  You can set one clock style or have multiple styles rotate through as part of an easy to manage theme.
Music and Video – no iPod necessary!  The Dash can stream your personal music from Pandora, Slacker and other Internet radio services.  The Pandora app on the Dash is great, and I have my Dash connected with a line out to the surround sound stereo in my bedroom, making the Dash my primary music source in the room.  You can watch Netflix movies and YouTube videos (and more) and while the Dash's 7 inch screen looks great, with a regular TV in my bedroom I use the Dash much more for music and audio than video.
Weather and widgets galore – local weather information is nicely integrated into the Dash and with apps you can add all sorts of social media feeds.  With an on screen virtual keyboard you can even Tweet and update your Facebook status from the Dash, but I find viewing the info is more practical from this device.  I love the spontaneous serendipity of social media and having my Twitter and Facebook streams flow by on my night table is just one more way I may randomly encounter a message that captures my interest.
Getting Framed – the Dash is also a great digital picture frame, and can stream your pictures (and if you want, your friends' pictures) from Flickr, Facebook, Photobucket and other sources.
This is just a dash of the things the Dash can do, and as a connected device there will be continual updates, additions and improvements.  There has already been one update pushed to the device since I have had it that improved the interface and added some new themes, which were greatly appreciated.  I am sure there will be more.  You can add apps and themes to your Dash from the device itself, or from a Sony website. While I find it fairly easy and intuitive to manage the Dash and its screens and installed apps, the process of adding new apps and customizing your channels can be a bit clunky especially from the web.  There is room for improvement, but given that this is a connected device, those improvements can come at any time, even after you are enjoying your Dash.
Win A Dash For Your Dad!
Between now and Father's Day, Sony is giving away a Dash a day, and myself and the rest of the Sony DigiDads (CC Chapman, Max Kalehoff, Michael Sheehan and Brad Powell) will be helping Sony judge the entries. Â Here is a quick overview:
Here is how to enter. Use your twitter account to send a tweet to @sonyelectronics telling us why your Dad deserves a dash. Include #sonydash . Each day one winner will be chosen and announced on twitter the following morning by 9:30 AM pacific standard time.

Here's an example

"@SonyElectronics My dad deserves a dash because he likes to check his email from bed so he doesn't need to lug his laptop from work.  He's #1! #sonydash "

**Be sure to use the Sony dash hash tag:Â #sonydash **

** You must tweet @SonyElectronics
For the complete rules please visit: http://blog.discover.sonystyle.com/dashfordad
Want one? Â Affiliate link to the Sony dash Personal Internet Viewer at Amazon.com
With or without a Dash, I hope you and yours enjoy a great Father's Day!
Jeff Sass is the proud dad of ZEO (Zach, 21, Ethan, 20 and Olivia, 18).  He is also a seasoned entertainment and technology exec and active social media enthusiast.  You can see more of Jeff's writing at Sassholes! and Social Networking Rehab and you can listen to Jeff on the Cast of Dads podcast.?
DISCLOSURE: http://cmp.ly/2/qsw72z