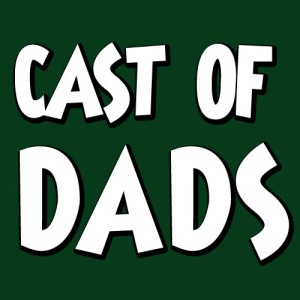 One of the fun things about getting together with the Cast of Dads is that sooner or later each of us gets the chance to share an embarrassing moment…  Or maybe that's just me who keeps sharing goofy moments?  Well, if it is me, this episode is no exception as I dive into a poorly sung rendition of one of my favorite childhood lullabies. Lullaby notwithstanding, I doubt this show  will put you to sleep as we cover topics as diverse as "negotiated infidelity," Dude Ranches, sexy Katy Perry and Snoop Dogg as a Dad.
You can LISTEN TO CAST OF DADS Episode 29 HERE.
Topics discussed in this episode include:
100 Women + 2 Guys + 1 Bar = FUN time
Honesty, Humor & Intimacy
People starting to spend more on experiences
The need of having a good scar story
Cooking With Brad
Salmon Burgers?
NyQuil + Soda to help kids to go sleep?
Sass' Sick Lullaby
If you have been enjoying the Cast of Dads podcast, please tell your friends about the show and have them subscribe to either our direct feed or via iTunes.  Also, please leave us a review in iTunes!
Cast of Dads is a group of podcasting and blogging dads who gather to gab about fatherhood. The cast of dads includes C.C. Chapman, Jeffrey Sass, Max Kalehoff, Michael Sheehan, and Brad Powell, who collectively represent 13 kids from the youngest of babies to full grown adults. Each of them brings a unique perspective to being a father.
Jeff Sass is the proud dad of ZEO (Zach, 22, Ethan, 20 and Olivia, 18).  He is also a seasoned entertainment and technology exec and active social media enthusiast.  You can see more of Jeff's writing at Sassholes! and Social Networking Rehab and you can listen to Jeff on the Cast of Dads podcast.?