There is no doubt that gadgets have truly gone mainstream. Â Look around your home and what do you see? Â Smartphones, Tablets, E-book readers, Computers, Game Consoles. Â Gadgets galore. Â Never before have kids grown up in households that so avidly consume consumer electronics. Â Even two year old toddlers are playing with "toys" with processors inside. Â Instead of finger painting, they are intuitively fingering capacitive touch screens and learning to read by tapping rather than turning pages. Â I am a dad who loves gadgets, so you won't hear me complain as more and more tech toys (for kids of ALL ages) invade our homes. Â When I was part of the Sony DigiDad project I called the cool gadgets dads play with "Dadgets!" Â More recently I am honored to have been selected as an "Intel Advisor," giving me the opportunity to take a closer look at innovative lifestyle tech products such as the Intel Reader.
A SMORGASBORD FOR GADGET LOVERS
For a very long time, one of my favorite conventions to attend has been the Consumer Electronics Show (CES) in Las Vegas and I have been fortunate to be able to attend for business purposes throughout my career.  This year, in addition to monitoring all the activity in the mobile world in my role at Myxer, I am also attending CES on behalf of Intel and the Intel Advisors, and will have a chance to look more closely at how technology and consumer electronics are impacting our family lives.  I hope to share a lot of what I learn about interesting gadgets and "Dadgets" with you here on Dad-O-Matic while I am at the show, and after I return.  From home electronics to automating our automobiles with apps, the latest and greatest in innovative products and concepts will be on display at CES and I'll do my best to give you a taste of the technologies and trends I encounter.
TAKING CONTROL WITH TECHNOLOGY & GADGETS
As parents there are many ways we can use technology to take control of our lives and make things at home more fun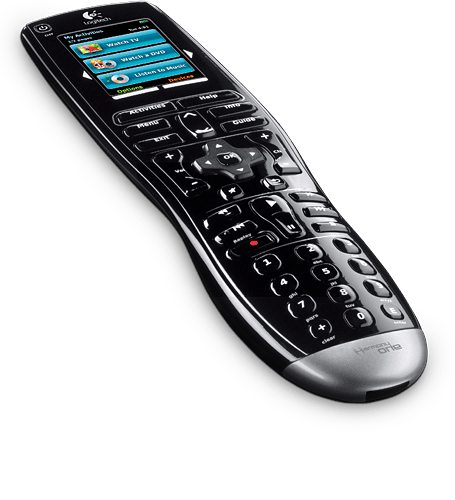 and convenient. Â From remote controlled cameras and baby monitors, to remote controls for the entertainment system in the family room… From robot floor cleaners to wireless streaming music… there are countess ways we incorporate gadgets into our daily home lives, hopefully in ways that make things easier and more fun for all. Â One gadget that has won the prestigious "BEST OF INNOVATIONS" award at past CES shows is the Harmony One universal remote from Logitech and I am happy to say I have a brand new Harmony One touchscreen universal remote to give away to a Dad-O-Matic reader! I own a Harmony Remote I bought a couple of years ago and it is a great way to take control of multiple devices, from TV's to DVD players and sound systems, with a single remote. The best feature is perhaps the setup of the remote. Instead of looking up and entering complicated manufacturer codes, the Harmony series of remotes features a very simple guided online setup. Â You just connect the remote to your computer and enter the brand and model of all the equipment you want to control and the software does the rest, configuring your Harmony One perfectly. Â The rechargeable Harmony One is one of Logitech's top of the line remotes, featuring both conveniently placed buttons and a customizable touch screen. Â Thanks to the friendly folks at Logitech, I have one Harmony One to give away. Â All you need to do is leave a comment on this post between now and the end of the day on January 10th, ideally telling us how you use gadgets to gain more control in your home. One of your comments will be randomly selected to receive the Harmony One. Â Good luck!
If there are specific gadgets (or Dadgets) you want me to look out for at CES this year, you can mention that in the comments as well!
Jeff Sass is the proud dad of ZEO (Zach, 22, Ethan, 20 and Olivia, 19).  He is also a seasoned entertainment and technology exec and active social media enthusiast.  You can see more of Jeff's writing at Sassholes! and Social Networking Rehab and you can listen to Jeff on the Cast of Dads podcast.??
DISCLOSURES: I am part of the "Intel Advisor" program and am compensated and/or receive other value from Intel to attend events on their behalf, including the 2011 CES show.  The Harmony One universal remote being offered in this post was provided as a courtesy by Logitech's PR team.
Related articles