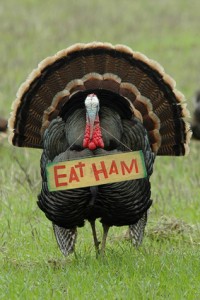 We're baaaack!  We missed a show due to technical difficulties, but that means the Cast of Dads had all sorts of pent up energy for our festive gab fest this week.  As we prepped our families for Thanksgiving we peppered our conversation with everything from freedom of speech issues to drinking and smoking, with a few bits and bytes of tech talk thrown in for good measure.
Before you dive in and take a listen, on behalf of all the Cast of Dads, we wish each and every one of you a happy, safe, filling and fulfilling Thanksgiving Holiday!  Please remember to be thankful at this special time of year.
You can CLICK HERE TO LISTEN TO CAST OF DADS EPISODE 35.
Topics discussed in this episode:
Thanksgiving Plans
Larry turkeys
The primal urge to fry everything
Putting beer in pill capsules?
Teaching kids to be responsible drinkers
Getting 16 year olds sick from smoking cigars
Forbidden Fruits & Catholic School Girls
Turns out the Brad grew up in Footloose
Legalization of marijuana
Positive effects of casinos
Xbox going for the living room
Death of Roku?
Traveling With Kids Advice from Max's Wife
If you have been enjoying the Cast of Dads Podcast, please tell your friends about the show and have them subscribe to either our direct feed or via iTunes.  Also, please leave us a review in iTunes!
Cast of Dads is a group of podcasting and blogging dads who gather to gab about fatherhood. The cast of dads includes C.C. Chapman, Jeffrey Sass, Max Kalehoff, Michael Sheehan, and Brad Powell, who collectively represent 13 kids from the youngest of babies to full grown adults. Each of them brings a unique perspective to being a father.
Jeff Sass is the proud dad of ZEO (Zach, 22, Ethan, 20 and Olivia, 19).  He is also a seasoned entertainment and technology exec and active social media enthusiast.  You can see more of Jeff's writing at Sassholes! and Social Networking Rehab and you can listen to Jeff on the Cast of Dads podcast.?
?Photo Credit: © hc – Fotolia.com