No words are needed to describe how freakin' awesome this is. Â If you're a dad, you know the feeling and (hopefully) have your own version of this adventure. Â This has been widely covered by Huffington Post, Inquisitor and others, but this video, and this SUPER Dad, most certainly deserves a place here on Dadomatic. Â On behalf of all us dads, I salute you Spider-Dad!
This wasn't nearly as cool as Spider-Dad and son, but watching this video did make me recall the Halloween, many full-moons ago, when My sons and I "did Dracula."  Fangs for the memories!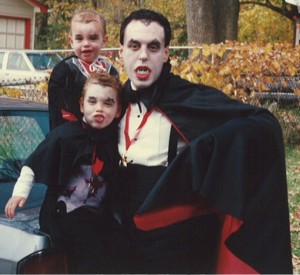 What was your best costume adventure with your kids?

Jeff Sass is the proud dad of ZEO (Zach, 24, Ethan, 22 and Olivia, 20).  He is also a seasoned entertainment and technology exec and active social media enthusiast.  You can see more of Jeff's writing at Sassholes! and Social Networking Rehab and you can listen to Jeff on the Cast of Dads and Wunderkind! podcasts.