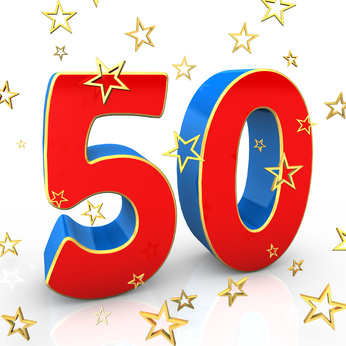 Woohoo! Â This is EPISODE 50 of the Cast of Dads podcast! Â As we hit this milestone, I thought I would share the tale of how the Cast of Dads came together…
Back when Sony came a callin' and invited myself and four other dads to become "DigiDads" and get the chance to play with some of their products, of the five participating dads I only knew C.C. Chapman.  Since then I have had the pleasure of spending time in person with all of the former DigiDads (C.C., Brad Powell, Max Kalehoff and Michael Sheehan) but actually, the five of us have yet to meet as a group in person (brands, are you listening?)  During the DigiDad program we had regular conference calls together, and it was clear that, despite geographic, age, and kid-stage differences, we all got along great, and had a collective kindred spirit about life, parenting, and blogging.
When the DigiDad program ended we really didn't want to stop our regular calls and our budding friendships, so we decided to keep the dream alive and start a podcast together. Â The result is the Cast of Dads. Â If you've been a regular listener you know that we don't have much of an agenda. Â Really, we're just being ourselves and having a conversation, and inviting you to listen along. Â Between us five dads we have thirteen kids, from toddlers to college grads, so we have lots to talk about and perspectives and opinions on just about every phase of parenting and fatherhood. Â I Â hope you've enjoyed these 50 episodes as much as we have.
Today, I consider Brad, Michael, Max and C.C. among my best of friends, and I truly look forward to every time we get together to record a show. Â Of course, the Cast of Dads wouldn't be half as much fun without you too! Â We greatly appreciate your taking the time to listen, and always love hearing your comments and feedback. Â THANK YOU! Â We hope you'll continue to tag along for the next fifty shows!
You can CLICK HERE TO LISTEN TO CAST OF DADS EPISODE 50.
Topics discussed in episode 50 include:
Happy 50th Episode
Ringing the dinner bell
Exposing kids to new foods
LG Makeover Contest – VOTE FOR MICHAEL!!
Convert your old TV to an aquarium
Old electronics
Listening to the radio?
Hacking Tivos
Max going sailing
C.C. headed to Ghana with ONE
National Train Day is May 12th
Taking the train and seeing the country
Playing with model trains
The magic of dirt
Power washing
If you have been enjoying the Cast of Dads podcast, please tell your friends about the show and have them subscribe to either our direct feed or via iTunes.  Also, please leave us a review in iTunes!
Cast of Dads is a group of podcasting and blogging dads who gather to gab about fatherhood. The cast of dads includes C.C. Chapman, Jeffrey Sass, Max Kalehoff, Michael Sheehan, and Brad Powell, who collectively represent 13 kids from the youngest of babies to full grown adults. Each of them brings a unique perspective to being a father.
Jeff Sass is the proud dad of ZEO (Zach, 23, Ethan, 21 and Olivia, 20).  He is also a seasoned entertainment and technology exec and active social media enthusiast.  You can see more of Jeff's writing at Sassholes! and Social Networking Rehab and you can listen to Jeff on the Cast of Dads and Wunderkind! podcasts.