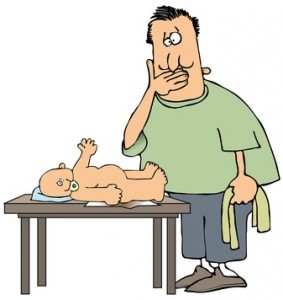 I am currently suffering from a bout of empty nest syndrome and one of the symptoms is recalling all sorts of memories of my kids at various stages and ages. Â My oldest, now 22, recently ran a half marathon – his first – and afterwards he threw up. Â Watching him barf as a young adult reminded me that I had actually watched him puke his entire life. Â He was almost permanently ejected from nursery school for his daily disgorges, shortly after his mom dropped him off every morning. Â Alas, he survived, as did I, but the memories inspired me to write a poem, "An Ode To Parenting and Puking."
You can listen to me reading it or read it for yourself below. Â I hope you enjoy!
An Ode To Parenting and Puking
By Jeffrey Sass

If you are a parent, you know the scoop,
We were put on this earth to clean up the poop.
When our kids are born we are put to the test,
We must become experts at cleaning a mess.

Learning to breathe through your mouth is a must,
To avoid making scents of what comes from their butts.
No matter how chunky or smelly or mushy,
It's our duty to clear all the doody from their tushy.

Of course it'd be easy if poop was just it,
But there's much more to clean than the diapers of shit.
That our kids have a mouth is certainly no fluke,
For how else would they be able to shower us with puke.

It starts on your shoulder when baby is little,
And decorates your clean clothes with splotches of spittle.
As soon as they advance from crawling to erectile,
Their spitting up evolves to vomiting projectile.

In car seats, at school, at the dining room table,
Your kids will throw up as often as they are able.
One moment they are happy, seeming without a care,
And the next they're streaming vomit like a mini Linda Blair.

If you've been at it for years you might be feeling bolder,
But I've got news, they still blow lunch when they are older.
When they reach their teens you'd be safe (you'd a thunk),
Until the first time your kid learns to puke from getting drunk.

You see, barfing is something that comes to kids in stages,
It is not limited by size, by gender or ages.
You may not think such behavior befits a young girl,
But sooner or later, your little princess will hurl.

So Mommies and Daddies what ever can we do,
To ensure we are ready when our kids choose to spew?
There's no point in getting angry or acting any meaner,
Just stock up on more of that anti-bacterial cleaner.

And remember, while holding the sponge and wearing a rubber glove,
That while your kid may give you vomit, you still give them love.
What do you think? Â Has puking been part of your parenting too??? Â Don't get all choked up… tell us about your experiences in the comments.
Jeff Sass is the proud dad of ZEO (Zach, 22, Ethan, 20 and Olivia, 19).  He is also a seasoned entertainment and technology exec and active social media enthusiast.  You can see more of Jeff's writing at Sassholes! and Social Networking Rehab and you can listen to Jeff on the Cast of Dads podcast.
"An Ode To Parenting and Puking" (c) 2011 Jeffrey W. Sass
Photo Credit:Â caraman – Fotolia.com