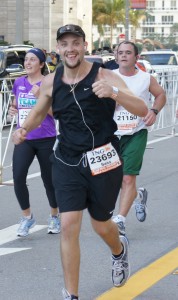 (Sunday, January 30, 2011) I am writing this after a four mile run. Actually, I am working my way up with interval training, having started a month or so ago by walking two minutes and running one minute, then, a week or so later upping it to two and two, then a week or so later, Â two minutes walking and three minutes running and today, feeling inspired, I raised it to alternating one minute of walking followed by three minutes of running. Â Soon I hope to be able run the entire four miles…and then, hopefully, even more.
Going The Distance
This morning I drove down to Miami hours before the crack of dawn to watch, up close, the ING Miami Marathon and Half Marathon. Â I had a vested interest in watching this race as my oldest son, Zach, was running in it, his first half marathon. Â I am in awe of Zach these days, and find him to be an incredible source of pride and inspiration to me. Â It seems for the moment our roles have been reversed. Â The parent/mentor has been outdone by the child/mentee. Â While, as the Dad, I am the one who is supposed to motivate and lead by example, now it is Zach leading me down the path of aspiring to run. Â In less than a year, Zach has, on his own, lost nearly 150 pounds and now he has trained for, and completed, a half-marathon – 13.1 miles.
Motivation and Perspiration
I found myself overcome with emotion as I watched Zach and the other runners, many in wheelchairs or otherwise physically challenged, many younger than me, and quite a few older than me, all glowing with the sweat of determination as they passed me on the sidelines while they were enroute to the finish line. Â Each was competing with over 20,000 other runners, yet each was completing their own very individual and personal triumph. Â I came away from the race extremely proud of Zach, and motivated myself. Â I did not share the marathoners' perspiration, but I did share their inspiration, and I hope to one day experience walking- er, running, in their shoes.
Watching the marathon reminded me that there are no limits to our ability to achieve. Â There is so much we are capable of, so much we can accomplish, when we just put our mind to it and decide to make it so. Â You just have to take one step after another, again and again and again… Keep moving forward and keep the finish line foremost in your mind. Â I learned that from my son.
How about you? Â What are your kids teaching you?
Here is an Animoto video of some of the pictures I took of Zach and the Miami Marathon.
Jeff Sass is the proud dad of ZEO (Zach, 22, Ethan, 20 and Olivia, 19).  He is also a seasoned entertainment and technology exec and active social media enthusiast.  You can see more of Jeff's writing at Sassholes! and Social Networking Rehab and you can listen to Jeff on the Cast of Dads podcast.??
P.S. & Disclosure: The pictures in the Animoto video above were taken with a Sony NEX-5
Camera (affiliate link), which I received as a sample from Sony that I am not expected to return. Â It is a great camera and my fellow "Cast of Dads" cohort, Michael Sheehan, has a great and detailed review of the camera here.