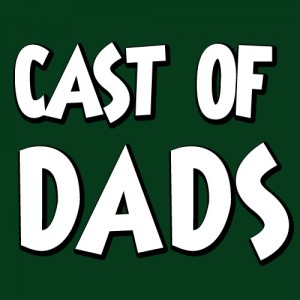 One dad clearly #Winning in the news these days is Charlie Sheen, and the Cast of Dads took a few sips of Tiger Blood while recording our 40th episode.  As usual, we cover a cornucopia of topics, from Charile's angels -er, goddesses, to Dr. Seuss.  As a true sign of a dedicated dadcaster, our own Max Kalefhoff joined us for the show even though he was in the middle of a blackout in New York, prompting a a discussion about flashlights.  Clearly, anything is fair game with this Cast of Dads! Enjoy!
You can CLICK HERE TO LISTEN TO CAST OF DADS EPISODE 40
Topics discussed in this episode include:
Blackout in NYC?
Flashlight Fun
Whatever happened to Blanket?
Jeff is a poet?
Body Fluids Book
Happy Birthday Dr. Seuss
The genius of Steve Jobs
Mac vs. PC
If you have been enjoying the Cast of Dads podcast, please tell your friends about the show and have them subscribe to either our direct feed or via iTunes. Also, please leave us a review in iTunes!
Cast of Dads is a group of podcasting and blogging dads who gather to gab about fatherhood. The cast of dads includes C.C. Chapman, Jeffrey Sass, Max Kalehoff, Michael Sheehan, and Brad Powell, who collectively represent 13 kids from the youngest of babies to full grown adults. Each of them brings a unique perspective to being a father.
Jeff Sass is the proud dad of ZEO (Zach, 22, Ethan, 20 and Olivia, 19).  He is also a seasoned entertainment and technology exec and active social media enthusiast.  You can see more of Jeff's writing at Sassholes! and Social Networking Rehab and you can listen to Jeff on the Cast of Dads podcast.