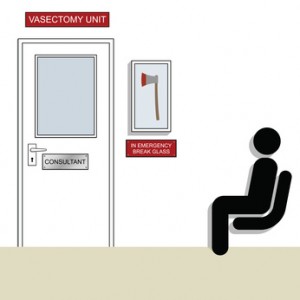 In this show the Cast of Dads regroup to recap our respective Father's Day activities, but as usual we can't possibly stay focused on one topic.  Before long we jump from discussing a dad's happiest day, to a day many dads fear: V-Day! (with "V" standing for Vasectomy!)  Want to know which of the Cast of Dads has already suffered through the "big snip"?  Listen on…
Topics discussed in this episode include:
Camping without technology (as it should be)
The Difference between Mother's Day & Father's Day
Shout out to gift giving @Caffinated_Mom
When did you decide to get a vasectomy?
Terminator Balls
The new iPhone 4
iOS4 is awesome
Repopulating the world
Paint as a present?
American Baby Magazine promotion for Max's wife
Movie quotes
You can LISTEN TO CAST OF DADS EPISODE 24 HERE.
If you have been enjoying the Cast of Dads Podcast please tell your friends about the show and have them subscribe to either our direct feed orvia iTunes.  Also, please leave us a review in iTunes!
Cast of Dads is a group of podcasting and blogging dads who gather to gab about fatherhood. The cast of dads includes C.C. Chapman, Jeffrey Sass, Max Kalehoff, Michael Sheehan, and Brad Powell, who collectively represent 13 kids from the youngest of babies to full grown adults. Each of them brings a unique perspective to being a father.
Jeff Sass is the proud dad of ZEO (Zach, 21, Ethan, 20 and Olivia, 18).  He is also a seasoned entertainment and technology exec and active social media enthusiast.  You can see more of Jeff's writing at Sassholes! and Social Networking Rehab and you can listen to Jeff on the Cast of Dads podcast.?
Photo Credit © Barry Barnes – Fotolia.com