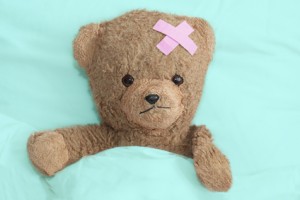 In this episode of Cast of Dads one of the dads tells of a late night spill that ended with a trip to the ER and some stitches… which leads to a discussion of kids and injuries… which leads to me recalling the tale of my daughter and her missing finger tip… (you'll have to listen to the show for the rest of that story!)  In the midst of all the gory talk we manage to give some heartfelt parenting advice, and even some tips on cooking as a family.  Once again we prove that five dads and thirteen kids equals a treasure trove of tales to tell.  Enjoy!
CLICK Â HERE TO LISTEN TO "CAST OF DADS" EPISODE 28
Topics discussed in this episode:
Michael falls down
Battle scars are cool
Macallan Scotch is C.C.'s favorite
Stitches Stories
Looking for finger tips
Brad IS ok after last week's show
NJ Vacation
Easing back into school bedtime routines
Teaching kids to cook
Every guy must know how to cook
Caution with boiling liquids
Oven door dangers
Scooping out the toilet
If you have been enjoying the Cast of Dads podcast, please tell your friends about the show and have them subscribe to either our direct feed or via iTunes. Also, please leave us a review in iTunes!
Cast of Dads is a group of podcasting and blogging dads who gather to gab about fatherhood. The cast of dads includes C.C. Chapman, Jeffrey Sass, Max Kalehoff, Michael Sheehan, and Brad Powell, who collectively represent 13 kids from the youngest of babies to full grown adults. Each of them brings a unique perspective to being a father.
Jeff Sass is the proud dad of ZEO (Zach, 22, Ethan, 20 and Olivia, 18).  He is also a seasoned entertainment and technology exec and active social media enthusiast.  You can see more of Jeff's writing at Sassholes! and Social Networking Rehab and you can listen to Jeff on the Cast of Dads podcast.?
Photo Credit: © Eric Gevaert – Fotolia.com