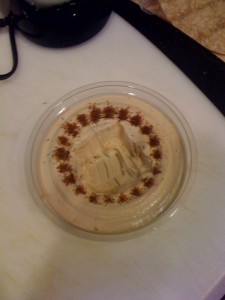 There is no doubt we live in a digital world. You wouldn't be reading this blog if we didn't. As a "Digital Dad" (hat tip to CC Chapman) I have written here before about the impact of text messaging and mobile phones on family life, especially if you have older kids, as I do, who live their lives on their iPhones and Blackberries.
He Said, She Said
Recently, I had my first experience with a "digital tattletale," when one of my sons used a picture sent from his iPhone to "tell" on his sister. I had to laugh when I received an email message with the subject, "Look what Olivia did…" along with the picture above…
Hummus A Song, Will Ya?
Let me explain. As you may know if you have followed me here, FOOD is very important in my family. We often buy a particular Hummus that comes with a big wad of Tahini in the middle. Apparently, my son came home to find my daughter had scooped out and eaten all the Tahini, leaving just the plain hummus around the edges for the rest of us. My son was so appalled he felt compelled to send me the picture of the Hummus with the "missing" Tahini. I'm not sure what he expected me to do… I certainly was not going to punish my daughter for pulling a Houdini on the Tahini. If she wanted to make it disappear (into her mouth) so be it. After all. food is meant to be eaten.
Have your kids ever been "digital tattletales? What is the most unusual digital message you've received from one of your kids? So far, for me, this one takes the cake (or the Tahini as the case may be.)
Jeff Sass is the proud dad of ZEO (Zach, 21, Ethan, 19 and Olivia, 17).  He is also a seasoned entertainment and technology exec and active social media enthusiast.  You can see more of Jeff's writing at Sassholes! and Social Networking Rehab.
UPDATE ON MOVEMBER:
If you read my post last week you know I am supporting MOVEMBER and am growing a moustache to raise awareness and funds  for Prostate and Testicular cancer research.  So far the progress of my moustache is far outweighing the progress of support for the cause at my donation page.  If you are so inclined, I encourage you to please lend your support at any level you are comfortable with.  If you've enjoyed my contributions here at Dad-o-matic, I'd enjoy it if you could help me support this important effort to improve men's health. Thank you!