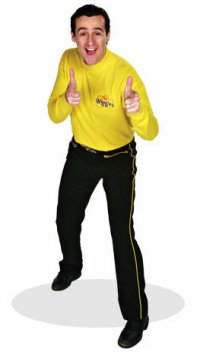 The Wiggles are celebrating their 20th anniversary which is an impressive milestone for any band nevermind one for children. They're currently on a US tour celebrating this achievement. Much like last year when I got to interview Jeff (the purple Wiggle), I had the pleasure of speaking to Sam (Yellow Wiggle) this time around.
Me:
Hello Sam. It's a pleasure to talk to you on behalf of Dad-O-Matic. So you're celebrating 20 years? Congratulations!
Sam:
Thank you. Â The band has been together for 20 but as you know I've only been with them as the Yellow Wiggle for 5 of those years.
Me:
Of course. You replaced Greg the original Wiggle. How is he doing these days? Does he ever perform with the band as a special guest for example?
Sam:
Right. Greg is doing much better these days since he stepped down from the tour which as you can imagine is quite grueling. Unfortunately he has not performed with us and there are no plans to do so on this tour.
Me:
So you are currently on the US leg of your tour, correct? How long will you be in the states?
Sam:
That is correct. We will be traveling America until the middle of August I believe.
Me:
I took my family to your show in Atlanta Georgia this month and it was a wonderful show. I have three kids and they really enjoyed it, well I'm not sure about the 12 year old who thinks he's a teenager now but the two younger ones were extremely excited to see you guys again. We were all quite surprised and sad to hear about Jeff whom I interviewed last year. What happened and how is he doing now?
Sam:
So glad to hear you enjoyed the show. Yes, we were all quite shocked by what happened to Jeff because he has always been in the best shape and always so active. No one was more shocked though than Jeff. He said he was experiencing some painful heart sensations and quickly went to the hospital where they determined he needed a pace maker.
Me:
How scary. So I guess this means he will not be on this tour at all.
Sam:
I'm afraid not. Doctor's orders of course. He will need some time to recover and we fully expect him to come back very soon.
Me:
We sure hope so. He's very popular with the kids. However, I think Brad did a stellar job in his place. I think he was one of the dancers, correct?
Sam:
Correct. Much like myself, Brad has been with the band for a while. He had little trouble jumping right in to help out.
Me:
I wanted to ask you about the name of the band. How did that come about?
Sam:
I was told that it was basically because it's something that most kids do… wiggle in their seats…always squirming about and all that. We also had a song called Get Ready to Wiggle.
Me:
Who writes most of the songs? Do you have outside songwriters or do you guys do it?
Sam:
Good question. We write most of our songs for sure. We really enjoy it.
Me:
What are some of your favorite songs?
Sam:
Personally, I really enjoy performing the Shimmy Shimmy Shake and Rock-a-bye Your Bear.
Me:
After an incredible 20 years, how much longer do you see the Wiggles performing?
Sam:
We think the band can go on as long as the audiences want us to. Just like I came on board to help the band and Brad has, the Wiggles will have no problem carrying on whenever one of us can't.
Me:
Well, that's good to know. Congratulations again on the amazing 20 years. We wish you many many more years of success.
Sam:
Thank you. We hope to see everyone and their kids in America this summer. Please come out and see us.
For more information about the Wiggles including their tour schedule please checkout their official website.