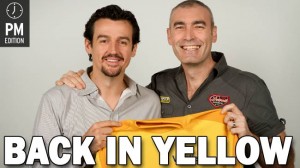 I had the immense pleasure and honor of interviewing Greg Page, the original yellow Wiggle who has rejoined the band for a farewell tour that ends in December 2012. He along with two other original members, Murray Cook and Jeff Fatt will be retiring from the band after over 20 years.
Greg Page took the time to speak to me before the Wiggles show at the Fox theater in Atlanta, GA. I was thrilled to get the chance to ask the original Yellow Wiggle some questions that I'm sure many fans would love to ask. We've been lucky to interview other members of the Wiggles in past such as Jeff the purple Wiggle in 2010 and Sam the yellow Wiggle in 2011 that replaced Greg when he left for health reasons.
DOM:
Hello Greg. It's a pleasure to speak to you. As you can imagine, our readers and their kids love the Wiggles so they are looking forward to this interview. The first thing I want to say is welcome back! My kids were over the moon when they heard you were back for this tour. My 6 and 9 year olds can't wait to see your concert here in Atlanta on Tuesday at the fox theatre. I have to admit that I am too.
Greg:
Hello and thank you very much. That is very nice to hear. I am really looking forward to this tour. I never got a chance to say goodbye properly when I left the band due to my sickness so this is all quite wonderful.  
DOM:
Speaking of sickness, how are you doing now physically? I understand that you have been able to better manage your condition, Orthostatic Intolerance.

Greg:
Yes, that's the name of the condition they diagnosed. At first they didn't know what it was but now we know so we can treat it properly and manage it so that I can perform in our shows which as you know are quite active and take a lot of physical energy and effort. I'm feeling very well these days too.
DOM:
I'd like to clear up the initial confusion and controversy surrounding your return. Some rumors were circulating that you asked the band to return which meant kicking Sam out of the band which I discovered was totally untrue. Can you address this one last time so everyone knows how this all really happened?

Greg:
Yes indeed. Thanks for asking. I would love to clear this up for everyone. You are correct that the original perceptions were wrong. I did not go to the Wiggles and ask to come back nor have anything to do with Sam leaving the band. Sam decided to leave on his own which opened the door for management who thought it would be a great idea to have me return for a farewell tour along with Murray and Jeff who also planned to retire. So it was an easy decision for me but I had to ask my wife first because we have two small children now. 
DOM:
Jeff and Murray are leaving too? Is Anthony staying?
Greg:
Yes. The three of us will be riding off into the sunset but the blue wiggle will stay on for a bit longer with three new members. You will see them on this tour.Â
DOM:
The first female Wiggle? How exciting.
Greg:
Yes. Her name is Emma and she is absolutely fabulous. She's performed with the band for a while already so she is very familiar with our shows. I think little girls all over the world will love seeing the first female Wiggle.
DOM:
How long is this farewell tour?
Greg:
This special goodbye tour will go on the rest of the year until our last show on December 23, 2012. We are looking forward to saying thank you and farewell to all our fans.
DOM:
Will you and the other members still be involved with the Wiggles brand after you stop performing?
Greg:
Oh yes definitely. We will stay active behind the scenes with everything Wiggles in regards to writing songs, TV shows and working on live performances. We just won't be traveling and performing live anymore. However, we plan to remain very much involved with the Wiggles.
DOM:
How can fans keep in touch with you and up to date on what you're up to?
Greg:
I'm currently having my personal website totally renovated and updated. Just go to www.GregPage.com and you'll be able to see what I'm up to, with and without the Wiggles.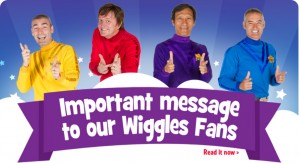 Here's their message to the fans about their retirement.

Here are the new Wiggles lineup that will start touring in 2013. They've already started performing with the current ensemble in order to prepare to take over.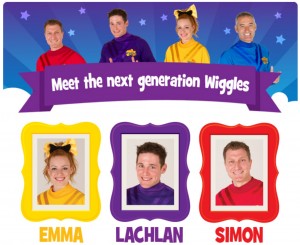 Disclaimer: I was fortunate enough to attend the Wiggles concert here in Atlanta, GA on 7.31.2012 thanks to the gracious Wiggles PR team! We even got to meet the band before the show.