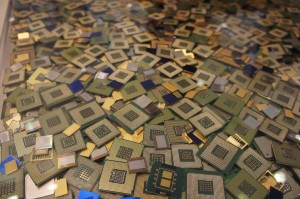 As part of the "Intel Advisors" program, my fellow Cast of Dads co-host Michael Sheehan (@hightechdad) and I were the lone males at the recent "Upgrade Your Life" experience at Intel's Santa Clara headquarters.  Surrounded by a bevy of talented women entrepreneurs and bloggers we were treated to an inspiring peek inside Intel and in particular, a deeper look at some ways technology is impacting our environment, our health and our education — in essence, how technology is impacting our lives and the lives of our families. I attended this event last year as well, where, among other things, I was introduced to the Intel Reader, a fascinating product to help the visually impaired.  There was a lot of great information and learning at this year's event as well and I look forward to sharing more details here.  Meanwhile there is a good overview at the Intel Inside Scoop blog, and below is a short video recap Michael and I recorded in the lobby.
Jeff Sass is the proud dad of ZEO (Zach, 23, Ethan, 21 and Olivia, 19).  He is also a seasoned entertainment and technology exec and active social media enthusiast.  You can see more of Jeff's writing at Sassholes! and Social Networking Rehab and you can listen to Jeff on the Cast of Dads podcast.
Disclosure: I am part of the "Intel Advisor" program and am compensated and/or receive other value from Intel to attend events on their behalf.  Intel covered my travel, accommodations and expenses for my trip to Santa Clara for the Upgrade Your Life event.