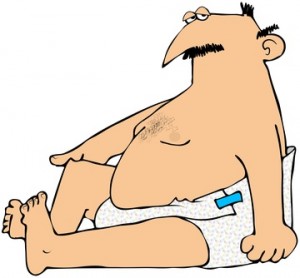 Even a few dropped calls and technical glitches could not stop the Cast of Dads from chiming in on anything and everything that might be on a Dad's mind… As the title of this post says we dive into a discussion that starts with diapers and ends with sex.  (Perhaps we had things backwards as oftentimes it is the sex that leads to the diapers….  hmmm.)  We also continue our discussion on bullies and buying cars (unrelated, of course…)
You can LISTEN TO CAST OF DADS # 33 BY CLICKING HERE.
Topics discussed in this episode:
Dad Labs goes to the Texas State Fair
Michael's car shopping war stories
Negotiating a car via e-mail?
Saturn no hassle
BMW Showrooms
That new car smell
The Diaper Conspiracy
Brad's CSI
The power of buddies
Girls can be evil
Never start a fight, but don't ever lose one.
Putting kids on leashes
Brad is a killer harmonica player
Shooting pool with a rope
Cougars
If you have been enjoying the Cast of Dads Podcast please tell your friends about the show and subscribe to either our direct feed or via iTunes.  Also, please leave us a review in iTunes!
Cast of Dads is a group of podcasting and blogging dads who gather to gab about fatherhood. The cast of dads includes C.C. Chapman, Jeffrey Sass, Max Kalehoff, Michael Sheehan, and Brad Powell, who collectively represent 13 kids from the youngest of babies to full grown adults. Each of them brings a unique perspective to being a father.
Jeff Sass is the proud dad of ZEO (Zach, 22, Ethan, 20 and Olivia, 19).  He is also a seasoned entertainment and technology exec and active social media enthusiast.  You can see more of Jeff's writing at Sassholes! and Social Networking Rehab and you can listen to Jeff on the Cast of Dads podcast.?
?Photo Credit: © caraman – Fotolia.com?