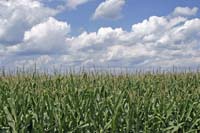 Welcome to my regular Friday feature, Worst of the Week. As a white, suburbanite husband and dad of two kids, there's a lot that can go wrong and this entry is all about how to fix it. I hope you enjoy it!
This past weekend our family along with 4 other families went to the local farm to visit their Corn Maze. It's a wonderful setup complete with three difficulty levels, hot cider, donuts, Smores and two bonfires.
The younger kids (along with a few parents) chose to go into the beginner maze while some other kids and parents went into the expert one. It turned out that Patty, Patrick and Erin all went into the former when I thought they were following me into the latter.
The report I got from Patty after we met up was not a good one. First of all I didn't go with my family. I'll cop to that one and take full blame and will go sit in the doghouse. Secondly, and this is even bigger, was that on several occasions Patrick ran ahead thus getting lost a few times and driving Patty absolutely crazy, especially because she had to help keep an eye on the little ones. She had to yell out his name constantly, but he always came running back. All this mind you, was happening the same time the sun was gong down and the local teenagers were coming out in droves making the mazes very busy.
Thankfully nothing serious happened and afterwards we had a good talk with him about staying with the group. Patrick does know better then to do what he did. He was just very excited and anxious to solve the maze on his own. He is a growing boy and wants more and more responsibility and freedom every day. But with that comes a price. He must follow the rules.
A lost child is one of the big fears we as parents face on a daily basis. Has something like this ever happened to you? As a parent or even as a child yourself?